Headliner Repair Guide
By Richard Steel
Note: For a more detailed guide with accompanying step by step pictures refer to the guide included in your headliner replacement kit.
Welcome to our online headliner repair guide. If you ever wondered how to repair a headliner, you've come to the right place!
What you'll need: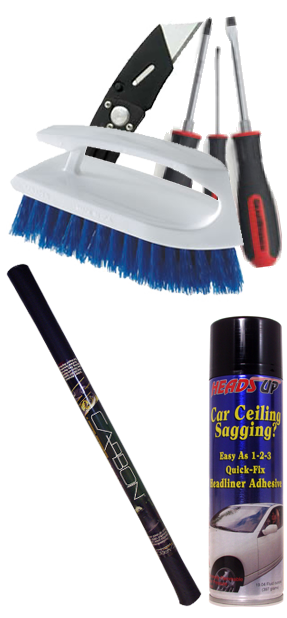 A razor.


A scrubbing brush.


Screwdriver set as required by your vehicle to detach headliner bound objects such as visors and vanity lights.


Headliner fabric and domelight clips (this comes standard in all of our kits). Headliner fabric cost varies by yardage. Average headliner replacement fabric cost: $28 per yard.


Specialized headliner adhesive. Avoid spray adhesives not specifically made for headliner repair as they are not built to withstand the tough headliner conditions and will usually lose grip within a few months. Average specialized adhesive cost: $12.50 per 16.5oz can.

For a detailed cost breakdown and comparison read How Much Does Headliner Repair Cost?
When repairing a headliner there are two distinct types of action you will have to take. The first includes the removal and reinsertion of the headliner from your vehicle before and after treament. The second is the repair treatment process once the headliner is out.
For the the removal and reinsertion of the headliner refer to the video example below:


For the headliner repair process here are the steps you should follow:

1) Remove the old headliner fabric. In most cases you can simply peel it off in one direction.
2) Use a scrub brush and gently remove as much of the old adhesive from the headliner board as you can.
3) Fit the new headliner fabric on top of the board, and section by section, start applying the adhesive.
4) Once glued use a razor to trim excess headliner fabric.
5) You are ready to reinstall the headliner into your vehicle.
So to recap, the repair process includes (1) The removal of current headliner board (2) Removal of old headliner fabric from the headliner board (3) Fitting of the headliner replacement kit and (4) Application of the adhesive and reinstallation.
Still having difficulties? You can always get a quote for headliner repair service or you can contact our customer support.
If you bought the headliner replacement kit you can always refer to the in-depth manual that's included in your kit or you can call one of our Installation Specialists for free live help.